"Let us begin."
—Charon[src]
Charon is the concierge at the Continental Hotel's New York City establishment, employed by Winston and being his right-hand man.
A recurring character in the John Wick movie series, Charon is often seen interacting with the eponymous protagonist in his position as the concierge of the hotel, offering John various services, such as taking care of his dog.
History
John Wick: Chapter 2
After John has to leave his dog behind, Charon admits that the hotel has no services for taking care of a dog, but he will do it personally for John.
After John kills Santino D'Antonio, Charon returns the dog to him and states that he enjoyed looking after him. Charon later escorts John to a meeting with Winston in Central Park and before saying goodbye, tells John that it has been a pleasure working with him and the two men shake hands.
John Wick: Chapter 3 - Parabellum
After John was declared "excommunicado" and on the run for his unauthorized killing of Santino on Continental grounds, Charon expressed hope that John found sanctuary and smiles slightly when Winston expressed his confidence in his abilities.
Later, just as John was about to be killed by Zero, Charon stops him, reminding Zero that although John is ex-communicated and cannot reap the sanctuary benefits of The Continental, Zero is still a member and must abide by its rules and cannot kill anyone, including the ex-communicated John Wick without becoming ex-communicated himself. Charon fights alongside John when the High Table attacks the Continental, which was "de-concsecrated" on the orders of The Adjudicator. Together, the men eliminate the strike team after a hard-fought battle and Charon rejoins Winston to act as his bodyguard when Winston negotiates with The Adjudicator.
After Winston apparently "betrays" John to regain control of the hotel, shooting him and sending him off the hotel roof, Charon compliments his boss on the move being "well played", seeming to be out of character.
Personality
Charon is man clad in in air of mystery. Most of the time calm and collected, Charon performs his duties as a concierge of hotel professionally and thoroughly and becomes agitated when somebody does not follow the rules of Continental. Most significant he is absolutely loyal to Winston whose orders he fulfill to the letter to the point where Winston call him pride of hotel. He also deeply respects John (a fair bit more than what Winston does), as seen that he was willing to look after his dog while he was out of the country, even though it was against Continental rules. Before John was about to be hunted by every assassin in the world, Charon tells him that it was a genuine pleasure to know and work with John. However, when Winston shoots John off the roof, he doesn't seem very disappointed to see his good friend almost die. However this is obviously because he knows that Winston faked John's death.
Abilities
Equipment
Weapons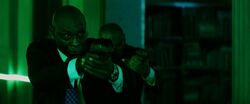 Trivia
Appearances outside the franchise
Payday 2
Charon is a supporting character featured in the John Wick Heists expansion pack for the 2013 video game Payday 2. He acts as a contractor for the player as part of the pack's two heist missions.
Gallery
References
External links